Who We Are
The motto and mission of New Life Fellowship is "Be Disciples, Make Disciples". It is the supreme goal of the Christian life (and therefore the life of the Church also) to live in the Grace of God and to walk in the footsteps of Christ. It's that simple. We aim to have our lives transformed by the power of the Holy Spirit and help others discover the same.
Leadership Team:
Our leadership team recognizes the authority of God, and realizes that we are shepherds who serve under the Chief Shepherd, Jesus Christ. We desire to devote ourselves to prayer and to the ministry of the Word. Our passion and goal is to equip the believers for the work of the ministry until we all attain maturity in the fullness of Christ.
Doug Wooten – Lead Pastor
Mark Lee – Lead Elder
Ole Hedahl – Elder
Clint Arnt – Elder
John Huffman – Elder
Klaus Klix – Lead Deacon
Mike Ginez – Deacon
Bruce Bajema – Deacon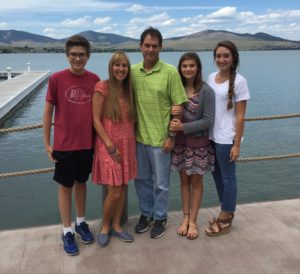 Doug Wooten – Lead Pastor
Doug is a fourth-generation pastor (his great grandfather was a pastor in Wales during the Welsh Revival); and although he has served the Lord in local church ministry for most of his life, it wasn't until Father's Day morning 1995, that he entered full time pastoral ministry. In the 23 years since that time, he spent the first 14 years as a church planter and Lead Pastor at two churches located on the Eastern Shore of Maryland. Then, from the fall of 2009 through the winter of 2016, he, along with his wife (Robbi) and three youngest children, (Alexis, Jared, and Elizabeth), have served the Lord in partnership with multiple international mission organization's and churches around the country. Doug is passionate about engaging with those who don't yet know Christ. He believes that by spending time with "pre-believers" in non-traditional and non-religious and non-threatening environments, trusting relationships can be built and opportunities are created to share the gospel. Prior to entering full time ministry, Doug coached college basketball and fastpitch softball and he also owned and operated a landscaping business. He and Robbi love traveling with their kids and they both enjoy golfing in their free time. They are both prayerfully asking the Lord for grace to become Seahawks fans and are moving forward in faith, believing that God will answer their prayers!
Doug, Robbi and their family arrived at New Life Fellowship on Easter Sunday, 2016 and are excited about serving the Lord in the Northwest Washington.